History of Gingerbread
The traditional Bohemian gingerbread (in present Czech language called "pernik" but in old Czech language "pepernik" because of black pepper used in the dough) is a sweet and spicy cookie. The original recipe contains honey, flour and pepper which gave the name to this excellent and famous product. But pepper is not the only spice used in the dough. Also ginger, cinnamon, clove, cardamom, all spice, anise, nutmeg and mace are used. After the dough is mixed, it must stay in a cold place for a few days or even weeks for fermentation. Also after baking, and before gingerbread is decorated, the cookies must "breathe" for at least a week otherwise the icing will fall off. In past, a few centuries ago, gingerbread was exported to many countries so it was developed to stay non-perishable. This is the reason why the cookie is hard, dry and preserved by all used spices and honey. It can last for decades.
Gingerbread was brought to Europe in 992 by the Armenian monk Gregory of Nicopolis (Gregory Makar) (Gregoire de Nicopolis). He left Nicopolis Pompeii, to live in Bondaroy (France), near the town of Pithiviers. He stayed there 7 years, and taught the Gingerbread cooking to French priests and Christians. He died in 999.
During the 13th century, it was brought to Sweden by German immigrants. Early references from the Vadstena Abbey show how the Swedish nuns were baking gingerbread to ease indigestion in 1444. It was the custom to bake white biscuits and paint them as window decorations.
The first written note about gingerbread in Bohemia was from the year 1335 but first gingerbread bakers in Prague were known already in 1324. The masters of this trade were much respected. 
In the beginning, only carved boards were used to create the shape of the biscuit and the motif on it. There was no other decoration or icing used.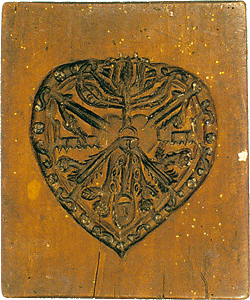 The first documented trade of gingerbread biscuits dates to the 16th century, where they were sold in monasteries, pharmacies and town square farmers' markets. One hundred years later the town of Market Drayton in Shropshire, UK became known for its gingerbread, as is proudly displayed on their town's welcome sign. The first recorded mention of gingerbread being baked in the town dates back to 1793; however, it was probably made earlier, as ginger was stocked in high street businesses from the 1640s. Gingerbread became widely available in the 18th century.
The recipe was brought to perfection in a Bohemian city named Pardubice. It's been made there since the 15th century while the icing was added in the 19th century. The decoration is very artistic and intricate so it makes a great gift for any occasion.
Pfefferkuchen or Lebkuchen is the German name for gingerbread, Polish name is Pierniki, Norwegians call it pepperkaker.