About our Gingerbread Art and History of Gingerbread
Our decorative gingerbread is done according to a very old traditional recipe and is non-perishable. There is no grease used but the dough contains a lot of honey and 9 kinds of spices, including black pepper. The dough is preserved by its ingredients and fermentation process. They keep gingerbread from molding, rotting and even from bugs.
A lacy intricate icing decoration changes an ordinary cookie into a beautiful art piece for any occasion. Each of them is made with love and a lot of patience. It takes about 30 - 120 minutes to decorate one piece. The time depends on a size and difficulty of a design. No stencils or stamps are used. The artwork is not created by computer, as many people think. The lace is done by FREE HAND! Each line separately - first horizontally, then vertically, one by one. When this net is done, then a pattern is filled in like a cross stitch, again individually - dot by dot. It could be called "A LIQUID EMBROIDERY".

Gingerbread has a very specific fragrance that stays there for a long time. You can please your eyes, heart and also nose.
Gingerbread ornaments are not meant for eating but there is no risk of harm because there are no chemicals used - except of food color.
This old traditional East European folk art makes remarkable Christmas tree decoration or presents for anniversaries, birthdays, Christmas, Easter, Valentine's Day, Mother's Day, baby showers, christening or baptising, for newly wedded couples or any other very special day. Small pieces (size about 3") with names of bride and groom and their wedding date will make extraordinary and unique wedding favors. With our gingerbread you can say "Happy birthday", "I love you", "I miss you", "Thank you", "Congratulation", "It's a girl/boy" or even "I am sorry". Actually, it is a sweet and very unique "greeting card" that can be customize.
Each piece is in a gift box with a clear lid or is wrapped individually in cellophane and tied with a bow. If you wish to have bows in the color of your wedding, please specify your order in the box "Add note for the seller..." in your shopping cart while you checkout or contact us via e-mail.

Please, contact us for details for personalization or custom made items before you place your order. We will do our best to satisfy your wishes.
Flowers die in a week or two but our gingerbread will last for many, many years, perhaps forever.
For decorative purposes.
HISTORY OF GINGERBREAD
The traditional Bohemian gingerbread (in present Czech language called "pernik" but in old Czech language "pepernik" because of black pepper used in the dough) is a sweet and spicy cookie. The original recipe contains honey, flour and pepper which gave the name to this excellent and famous product. But pepper is not the only spice used in the dough. Also ginger, cinnamon, clove, cardamom, all spice, anise, nutmeg and mace are used. After the dough is mixed, it must stay in a cold place for a few days or even weeks for fermentation. Also after baking, and before gingerbread is decorated, the cookies must "breathe" for at least a week otherwise the icing will fall off. In past, a few centuries ago, gingerbread was exported to many countries so it was developed to stay non-perishable. This is the reason why the cookie is hard, dry and preserved by all used spices and honey. It can last for decades.
Gingerbread was brought to Europe in 992 by the Armenian monk Gregory of Nicopolis (Gregory Makar) (Gregoire de Nicopolis). He left Nicopolis Pompeii, to live in Bondaroy (France), near the town of Pithiviers. He stayed there 7 years, and taught the Gingerbread cooking to French priests and Christians. He died in 999.
During the 13th century, it was brought to Sweden by German immigrants. Early references from the Vadstena Abbey show how the Swedish nuns were baking gingerbread to ease indigestion in 1444. It was the custom to bake white biscuits and paint them as window decorations.
The first written note about gingerbread in Bohemia was from the year 1335 but first gingerbread bakers in Prague were known already in 1324. The masters of this trade were much respected. 
In the beginning, only carved boards were used to create the shape of the biscuit and the motif on it. There was no other decoration or icing used.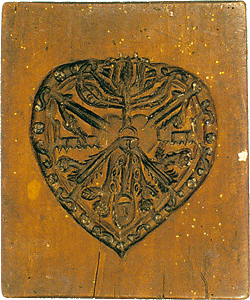 The first documented trade of gingerbread biscuits dates to the 16th century, where they were sold in monasteries, pharmacies and town square farmers' markets. One hundred years later the town of Market Drayton in Shropshire, UK became known for its gingerbread, as is proudly displayed on their town's welcome sign. The first recorded mention of gingerbread being baked in the town dates back to 1793; however, it was probably made earlier, as ginger was stocked in high street businesses from the 1640s. Gingerbread became widely available in the 18th century.
The recipe was brought to perfection in a Bohemian city named Pardubice. It's been made there since the 15th century while the icing was added in the 19th century. The decoration is very artistic and intricate so it makes a great gift for any occasion.
Pfefferkuchen or Lebkuchen is the German name for gingerbread, Polish name is Pierniki, Norwegians call it pepperkaker.