Painted with Coffee

Once Upon a Time...
It was a beautiful fall day. Sun rays were shining through leaves on our big maple tree that was changing its colors from green to yellow, red and brown. I was drinking my morning coffee and reading some online articles in our Czech newspaper. One of them really touched me deeply. It was about a lady that lost her arms but never gave up. With only three fingers, she was able to make beautiful art. She created little ornaments from tiny glass beads, she crocheted animals from the size of a matchbox to the size of a pillow. She also painted. With coffee. Yes, with COFFEE. She found this technique by accident. When she learned how to be independent after her injury, she spilled her coffee on a white table cloth and it created an interesting shape. It looked like a butterfly. She dipped her finger in rest of her coffee and continued... When she found out what she and coffee can do, she started to paint.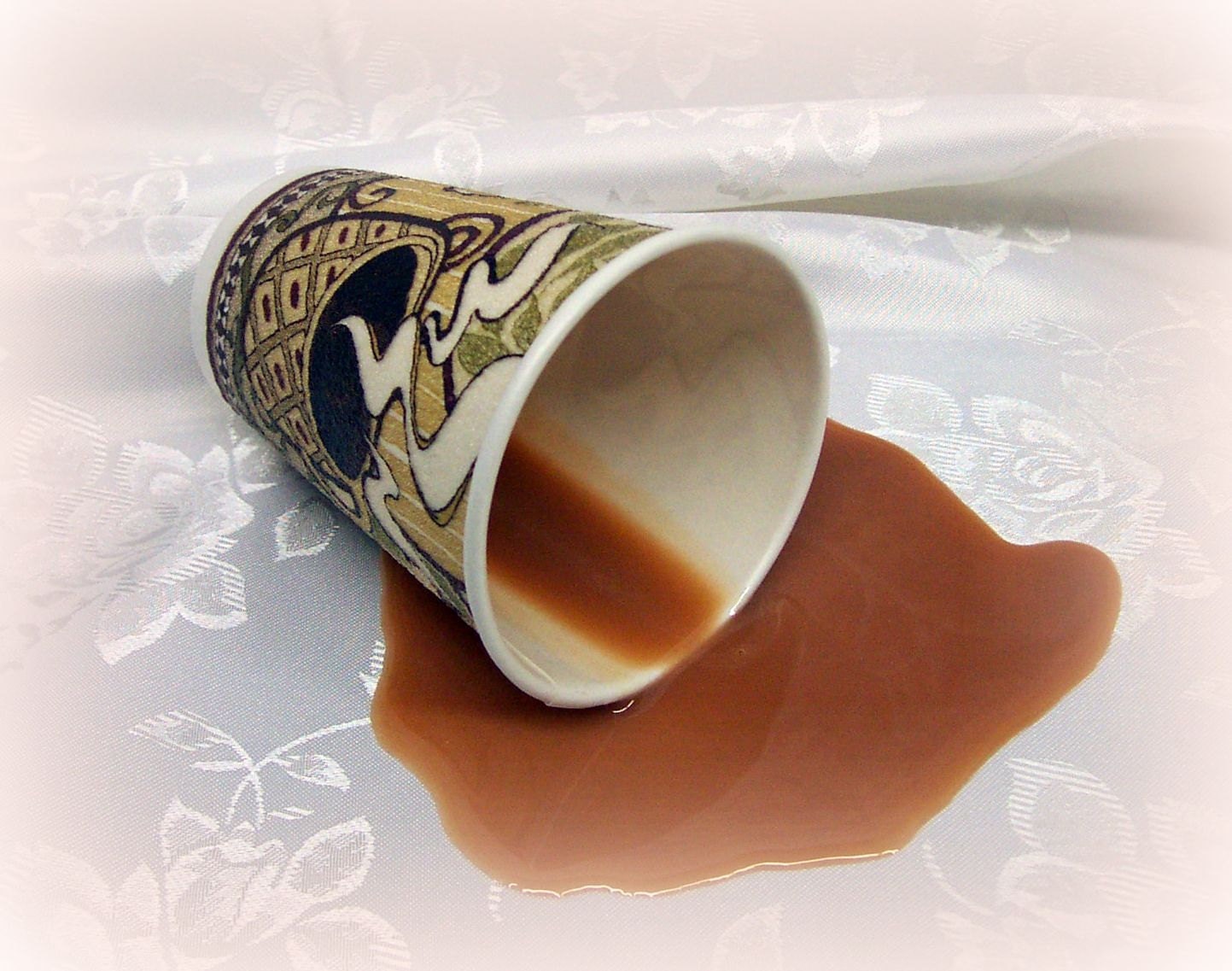 What a brave lady! Most of the other people would sit in a corner and cry about their destiny. But not her. She inspired me so much that I started to do some research and I tried my first painting with coffee instead of classic paints. I didn't take the easiest way - I started to paint on wood. I bought a wooden tray in Michael's and painted a country scene on it. It took me a couple of days to finish my work but it looked very interesting. The most problematic part is that if some stroke goes wrong, there is no way to fix it. It works as a stain. Once it's done, it's done. No change or fixing is possible. Coffee is soaked too deep in wood. It was a challenge but I liked it. I've felt encouraged enough so I bought some wooden boxes and tried on them. The result wasn't bad so I went for more and more. As I got the abilities from God, I wanted to use them.

I had many difficulties with varnishing. First, when I used a brush, the varnish made many little bubbles on top of the wooden plaque. I had to sand it and brush it again and again. So I bought a spray. With my English as a second language, I overlooked a sign on the can. I made a horrible mistake and bought a water based varnish. I sprayed it over my picture and... Holly Molly!!! My painting leaked all over the plaque and my painting disappeared. All work gone. I have to admit that I cried but I didn't give up and re-did my picture.
I posted my painting on Facebook and pretty soon I got many positive but also some negative reaction. "What an art? Painting dogs on a wooden plaque? It's a kitsch"! Well, that was like a punch to my face... That person didn't have any idea how much work and time was involved but it was true that it wasn't an art but a commercial souvenir making and I didn't want to do "an expensive hand painting" on cheap wooden boxes.
So I decided to try painting on canvas. Another headache... Coffee worked absolutely in a different way! I had to make my own mixture to make a paint that will stay on canvas otherwise it works like water colors on wax paper. It was a method of experiments and mistakes. I tried a few ways to make my paint thicker so it didn't leak. I used some glue and starch to make my own mixture and then I had to figure it out, how to make the paint stable so it doesn't brush off after drying. Many hours and a lot of coffee... But here it is!
It doesn't mean that I am not going to paint on wooden plaques as I found it very challenging and interesting. I will continue to do what you want me to do for you. Same as I did the picture of pets for my friends.
I can also paint your puppies or any other animal when you send me their photo pictures.
As you see, you can get anything that you wish for. So do not hesitate, contact me via e-mail if you want something very special for yourself or for your loved ones. While you will be drinking your coffee, I will do my best to make you satisfied.